ok back with a complete romper stormper of a tune, i like to think of this tune as my Ableton version of "trance Mit" a tune i made on MTVMG2 and also my biggest track on the site, really starting to find my way with the Riff editors and FX in ableton now, coming up with more the sound i want every time i use it, has taken a very long time to get this tune to the standard it is at now, had a few technical problems on the track, things jumping out of place and ghosts in the machine so to speak, the drum rolls kept going very weird indeed so had to make do with what i have made, the Bass is the true key in this tune, would have to say my best so far from a technical stand point. really happy with the tune.. i used a acapella vocal from the Eurythmics - "sweet dreams" i made the tune wearing earphones so spent the whole day sorting out the levels today, anyway its a blinding hard trance / psy tune and defo worth the download, so i hope you do ;D

any feed back would be cool, , i know it dose have some faults :/ but onwards and upwards ;D

****WARNING**** IF YOU PLAY THIS TUNE WITH EARPHONES ON AT HIGH VOLUME IT WILL SOUND FUCKING AWESOME, just as i intended it to be Smiley Smiley

---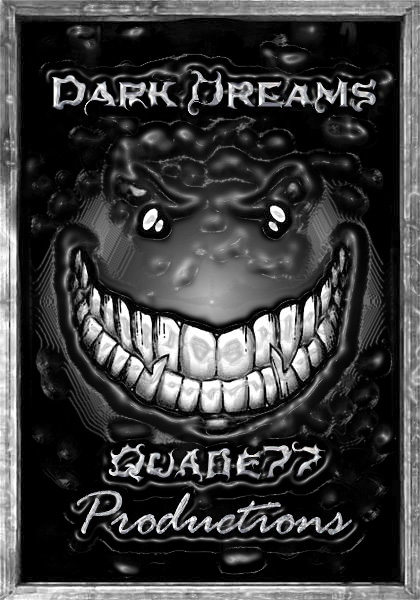 thanks fella, and yes mate you should get learning Ableton Live its just the bollox :) not had it a year and im doing some good stuff now :)
oh no, not trance mit, shocking tune that one lol!
didnt expect to see a new one from you this saturday morning, going through hell and all pain to listen to this with my nasa technology lol, im having to majorly exploit!
straight off the bat, wicked bass... really like that type of construction, got a kinda uplifting feel to it but i just know youre gonna get a bit darker on me lol! and yes the darker side is with us, those trancey stabs sound awesome, nice transition into the break, and wow youre right about the bass, love the added bassline, great use of the accapella, tidy remix going on in this break. and then more melody, love when it kicks back, with the melody constuction and bass changes... yeah this is nice, darker edges and great melody... got an A* production value, as i said great transitions, you make me want this even more with each track you make. the thing that stands out for me in this track is that little 4 bar bass line introducing each section, that is a real class touch... i love the overall feel with the vocals too, keeping it dark and hard which actually suits her voice. i can tell you spent some time on that melody section too. loved it, easy to listen too, keeps you interested and a wonderful feel for those lyrics. youve picked the perect samples that suit the vocal style and created an awesome tune :) once again another quade classic, your skills are really improving, wonderful feel, so much depth to this tune, impressive stuff errol!
now that's what i call a comment ;D

thanks alot mate, love your feed back, it makes me feel all warm and fuzzy inside lol, i keep playing this tune im loving it more every time i hear it, the good thing is i can always improve on the works i do with ableton, and when you get up and running too we can team up and do some awesome remixes of each others stuff. love the bass in this tune too, but it gets lost along the way some times, but a few tweaks here and there and this will be epic, im gonna send this tune off and see if i can get anything out of it, i sent K90 (2008 hard dance award winner) a message today to see if i can get this track mastered and dance floor ready ! the ball is starting to roll and im bringing you with me errol ;D ;D
Awsome stuff again Quade, I really don`t know what to say other than excellent, superb, great etc.

This just sounds so pro now mate, the overall production values are amazing, lovely little sample of The Eurythmics too! Love the part round about the 4 min mark when the bass line changes and it builds back up, simply awsome.
Pillage is right, the little 4 bar bass line just before each section is a stroke of genius.

Superb stuff Steve, Ableton is certainly working out for you mate. I reckon you`re definitely good enough to have your stuff played in major clubs now.

Superb.
Hello bliss you stranger lol thanks very much mate that's really cool of you to say that im ready for the club scene now, im gonna be trying to get there now more then ever, got a few things happening at the mo but want to keep it under my hat in case it falls apart and i make myself look like a nob head lol Ableton is certainly working out for me thats true, and it would for anyone its so much easier then MTVMG2, just ask pillage, im not gonna bang on about it but whats stopping you from using it dude? in a month you will be making better stuff then anything you have ever made before.. again many thanks for the comment dude, always nice to get a comment from you.
Wow, Quade this is great. I agree with everyone, such a pro sound now. The Sweet Dreams lyrics are very fitting, fantastic build ups too. Did you ever sort anything out with those people you got on to about the tunes? You keep on rolling and rolling, to new heights. Ableton is definately your forté. Nice work mate. By the way, will there ever be a Regeneration cover? Lol, I'd be bouncing to that for sure.
thanks very much JCW, and yes mate im still talking to people on getting my stuff released but these things take time, im doing really well on reverbnation and this is helping getting me noticed on the dance trance and hardstyle scene, im now ***7th*** in the reverbnation Local (london/south) Electronica/Dance charts, (just 1 place behind massive dance act THE ORB) who are huge in the world dance scene :) to me this means something and im defo heading the right way, my Global Rank in the Electronica/Dance charts is 64 out of 20588 artists and im 876 in Global Rank (all genres) thats out of 258407 people. and im nearly hitting the 14000 fans mark now too.
what is happening with me at the mo is that i have to make more tunes and make sure i up my game with every tune i make. im getting messages everyday from different people saying they love my sound and this to me is awesome, i may as well try hard to make it now as the ball is well and truly rolling, the main guy i speak to is DJ k90 who has promised me he will try to get my stuff played out in the future but i need to stay consistent.
ive got pillage coming down tomorrow for and collaboration on a new track which i know well turn out cool if it has his skills involved, if i do make it anywhere i wont forget the people her that listened to my tunes over the years and took time to leave comments, as it is the thing that drives me to do better.
and yes JC a Regeneration cover is defo on the cards for the future, its such a complex tune that its gonna take some time to master in ableton but i will do my best mate ;D
---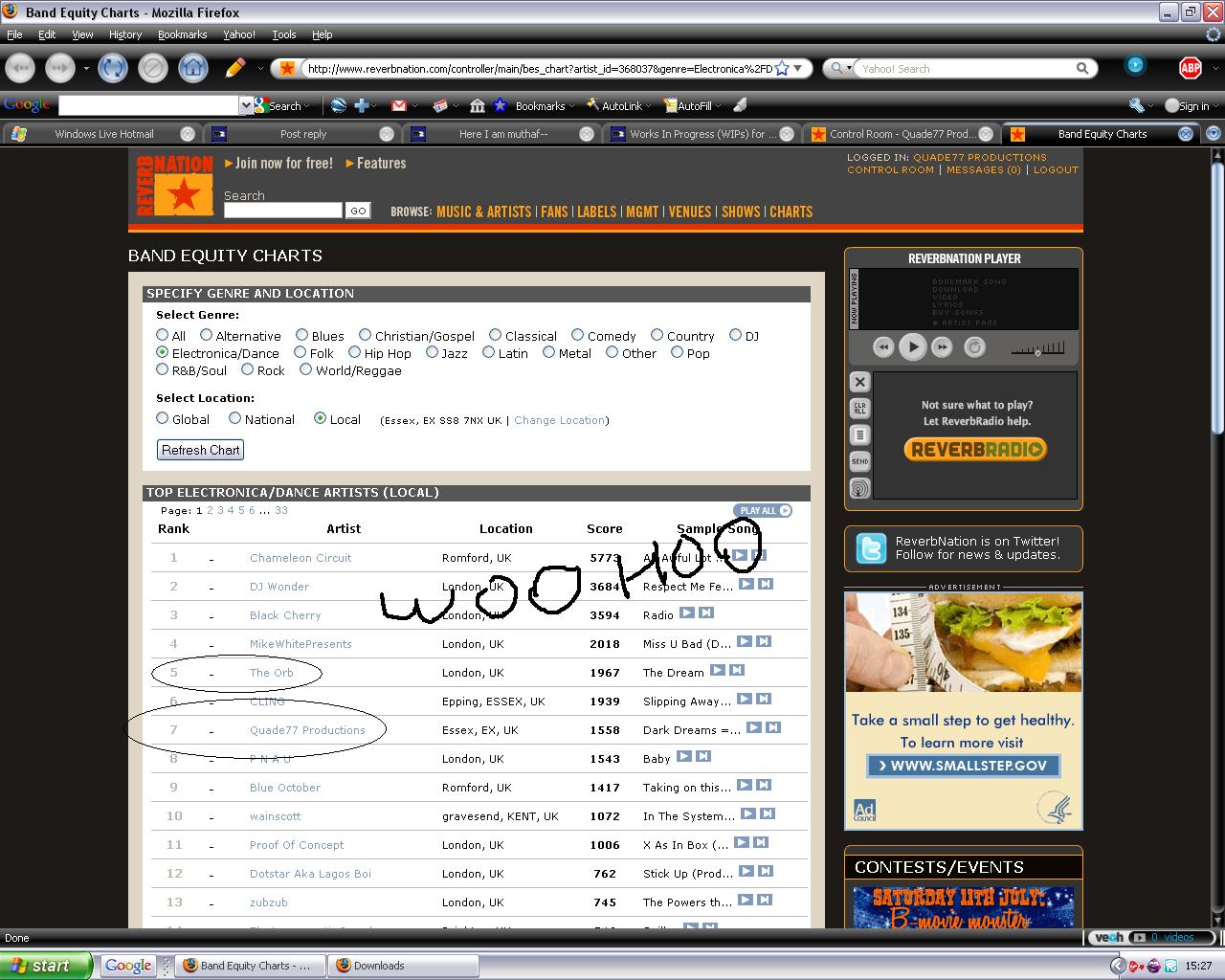 Wicked mate that's good to hear, really good. I'm pleased you're getting more fans and attractions to the music, you'll have no trouble maintaining that status I'm sure. Congrats also for the ReverbNation listing, that's really impressive statstics lol. Look forward to the new tunes buddy.
thanks mate :) the new one me and pillage made is really cool,

so are you on reverbnation JC?